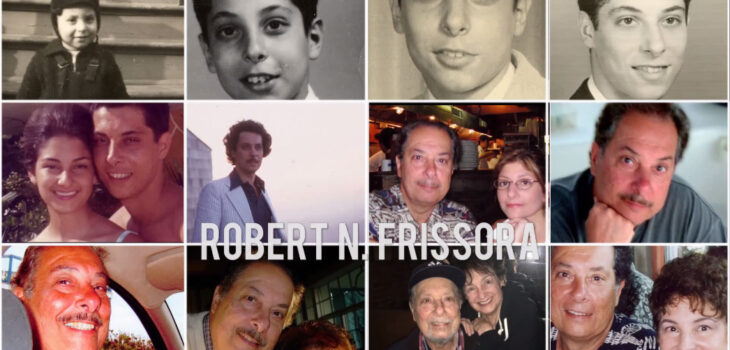 Robert N. Frissora, crossed over on Friday, June 11th after a lengthy health battle.
Bob built a rewarding creative career that began as Bill Graham's favorite ad guy, helping him to launch the first rock n roll theater, the Fillmore East. The rock of the 60's led him to become the President and Creative Director for a short list of successful advertising and branding agencies; Bob Frissora Design Co, Wilson-Frissora, the Foremost Group and most notably, Arcanna, Inc., a brand packaging and corporate identity firm he developed with his son Steven.
In later years Robert partnered with his brothers, Richard and Ralph, to run one of the largest panelized custom home building company in the tri-state area, Arcanna Homes. With a talented crew of construction professionals, they built dozens of unique homes across much of the Hudson Valley and lower Connecticut region.
Bob was diagnosed with AML in June 2020, shortly after closing on their Crompond homestead of 50 years. They had a whirlwind of retirement plans set for this year, but instead spent most of it traveling back and forth to the hospital in NYC for treatments. During his search for a cure, he visited with close friends and family to celebrate the many blessings they shared along the journey.
Eventually his numbers and health improved to a point that he became a strong candidate for stem cell transplant. At 78, it was a risk, but it was the only chance he had at a cure and more longevity with his family.
The last 60 days of the transplant process were extremely difficult and while he was given the remission he fought for, the complications from the treatment were too severe to overcome.
Robert, Bob, Boss, Fuzzy, Grandpa, Dad… will be sorely missed by his wife, Diane, daughter Lisa, son Steven, brother Ralph, grandchildren Craig, Amelia and Aiden, and the many family and friends that adored him.
Memorial arrangements will take place at Yorktown Funeral Home on Friday the 25th of June, with tribute services from 1-3pm and 6-8pm. Funeral services will be on Saturday the 26th, from 10am-12pm.
In lieu of flowers, we are asking that you help my Dad pay-it-forward by a contribution to the NewYork-Presbyterian Hospital/Weill Cornell Bone Marrow and Hematopoietic Stem Cell Transplant Program. The program averages 200 stem cell transplants a year, and patients come from the tri-state region, across the nation, and around the globe for the latest medical science to provide top-notch patient care.